Gruyere & Ham Toasts with Pomegranate Balsamic Drizzle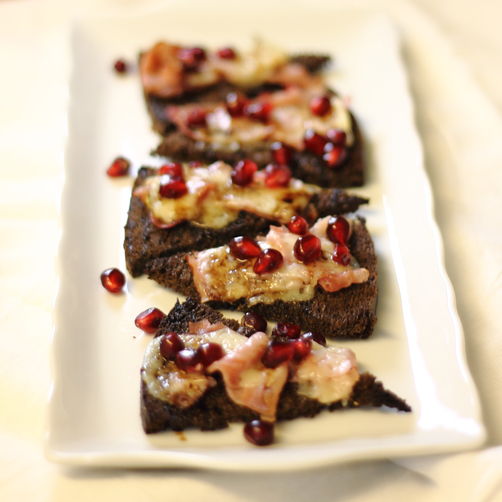 These are addictive little bites, but the real bonus is the extra pomegranate balsamic reduction. It's wonderful on everything from meatballs to ice cream.
Ingredients
serves 6
6

Slices Pumpernickel Bread

6

Slices of Ham (thin)

4

ounces Gruyere Cheese

1/2

cup Pomegranate arils

1

cup Pomegranate Juice

1

cup SG Gourmet Balsamic Vinegar
Preparation
In a medium saucepan over medium-low heat, cook down the SG Gourmet Balsamic Vinegar and Pomegranate Juice until reduced and thickened (about 15-20 minutes). Remove from heat and set aside.
Heat oven to Broil. Slice Pumpernickel into 4 slices each. Place on baking sheet that has been sprayed with Olive Oil cooking spray. Spray the top side of the bread with the cooking spray.
Top the bread pieces with ham and thin slices of Gruyere. Broil for 2-3 minutes until cheese is bubbly. Drizzle with balsamic reduction, and top with Pomegranate arils.